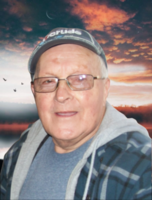 Abel (Abe) Moulton Mayo
Abel, Moulton Mayo "Abe" of Creston North, Newfoundland passed away suddenly in his home August 13 ,2022 at the age of 85 years.
Abe was born in Creston South to William and Frances Jane on January 28, 1937. He married Verna Mae Marks on October 2, 1957 and they were blessed with three loving children Sharon Barbara (Chad &Candace), Sterling (Julie,Shamus&Sarah) and Shane (Michelle, Emma &Beth).
Abel was a very proud father but also a beloved grandfather to Chad, Candace, Shamus, Sarah, Emma and Beth and a cherished great grandfather to Chelsea,Chad Jr, Chloe and Caleb. Generous beyond measure and hardworking, he was a steadfast friend to far too many to count. Abel's happiest times were spent trouting and spending time in the woods. Max his faithful hound provided him with wonderful companionship in Abel's last years.
He is survived by his sons Sterling (Pouch Cove) and Shane (Creston North), grandchildren Chad, Candace (Medicine Hat Alberta) Shamus, Sarah, Emma and Beth. He is awaited in heaven by his loving wife Verna Mae, twins and beautiful daughters Sharon and Michelle (in law), his brothers and sister and parents.
Funeral service will be held at Serenity Funeral Home on Tuesday August 16 at 6pm with Reverend Tulk officiating for family and friends. His ashes will be interned at the United Church cemetery in Creston North at a later date.
Viewing for close friends and family will be held at Serenity Funeral Home Monday August 15 from 2-4 and 7-9 pm.
Memorial donations may be made to the Gathering Place. The family wishes to extend their gratitude to Serenity Funeral Home and their staff.
Funeral arrangements entrusted to Serenity Funeral Home, Burin. We Listen, We Learn, We Walk With You.