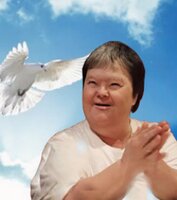 Daphne Pardy
It is with great sadness the family of Daphne Pardy of Port au Bras announce her passing on August 10th,2022 at the Burin Peninsula Health Care Center at the age of 64 years.
Leaving to mourn with fond and loving memories sisters Marie Baker (Clyde) of Salmonier, Olive Clarke of Port au Bras, Sharon Moores (Charles) of Lewin's Cove and Marilyn Hollett (Sammy) of Burin; brothers Harvey (Madonna) of Port au Bras and Clarence (Rosie) of Port au Bras; sister-in-law Sheila Pardy; many nieces and nephews plus a large circle of other family and friends. Special Thanks to all her home care workers.
Predeceased by parents Bridget and William; sisters Alice, Elizabeth, Alberta and Marion; brothers Charles, Ephraim and Samuel; brothers-in-law Morley Clarke and Samuel Bennett and sister-in-law Hester Pardy.

Daphne loved life and her personality was as bright as the sun. Her outlook on life was like 'We are never too old to have fun' and Daphne knew just how to do that. With her happy and fun loving ways she was a big fan of all celebrations Christmas and birthdays were her favorite days. Her birthday each May was so special a cake and party, with presents galore. She would grin from ear to ear at the Newfie songs which she could listen to for evermore! Daphne's family all truly doted on her with a lifetime of tender loving care. Her unique relationships with her siblings were marked with their own special name. Her special name was Daffodil. Daphne had many other favorite things like Mary Brown's , playing cards, and could spend hours throwing pennies in a bowl .Daphne will be such a big miss to us all but her life was truly lived to the fullest. And the lessons she leaves us are so profound because she showed us life's too short to be sad. Daphne will always have a place in our hearts and her energy and joy will remain. And we might just take ourselves a bit less seriously...and enjoy life .
Family will be accepting visitors on Thursday, August 11th from 10AM to 9PM.Funeral Service to take place from St. Andrew's Anglican Church, Port au Bras on Friday, August 12th at11AM with interment following at Anglican Cemetery Port au Bras.
In lieu of flowers donations in her memory may be made to St. Andrew's Anglican Church Men's Club.
Funeral arrangements entrusted to Serenity Funeral Home, Burin.
"We listen. We learn. We walk with you."
A Special Child
You weren't like other children.
And God was well aware,
You'd need a caring family.
...With love enough to share.
And so he sent you to us,
And much to our surprise,
You haven't been a challenge,
But a Blessing in disguise.
Your winning smiles and laughter,
The pleasures you imparted,
Far outweighed your special needs,
And melted the coldest heart.
We're proud that we've were chosen,
To help you learn and grow,
The joy that you have brought us,
Is more than you can know.
A precious gift from Heaven,
A treasure from above.
\